Tips to control the craving to plagiarize.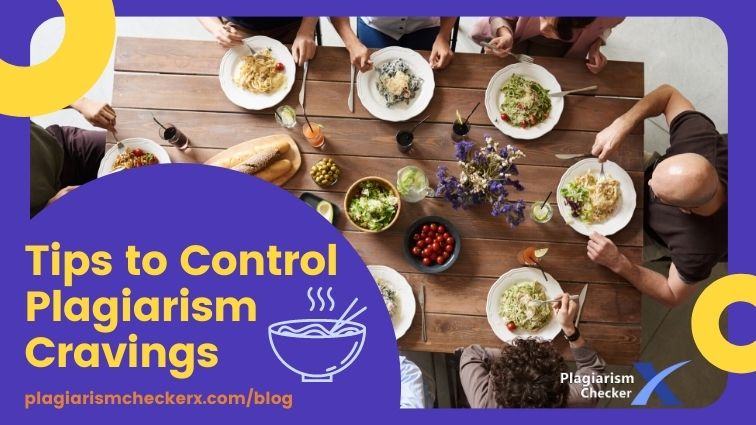 We all understand and know that plagiarism is wrong and everything must be done to avoid the urge to take part in plagiarism. There are any tips and tricks to avoid the craving to plagiarize as well as on how to avoid plagiarism in your student writing or in academic writing. However, the tips can only work their wonder when we know why this urge to do academic dishonesty and to plagiarize arises.
We often talk about What is Plagiarism, the consequences for plagiarism, the plagiarism types, and many other associated topics. But we hardly talk about the reasons behind Why We Copy?This is a significant question, which if catered well, it can ensure a prominent reduction in duplication-rate.So, let's dive in and find out about this craving to copy and how it arises in different areas.
Getting a Craving to Copy?
Know that using someone else's writing and putting on your own name on it is plagiarism. If you feel you want to do this, know that it will be plagiarism and involve severe consequences for plagiarism. There is a reason for that as well. Plagiarism can be explained simply copying others work, idea or writing where you use some other persons contribution without their knowledge or concern. Essentially, without their consent. It then becomes a crime to take over and use someone else's thoughts, work or writing and then exhibit them as your own. That is why there are severe consequences for plagiarism but still we see so many cases of plagiarism.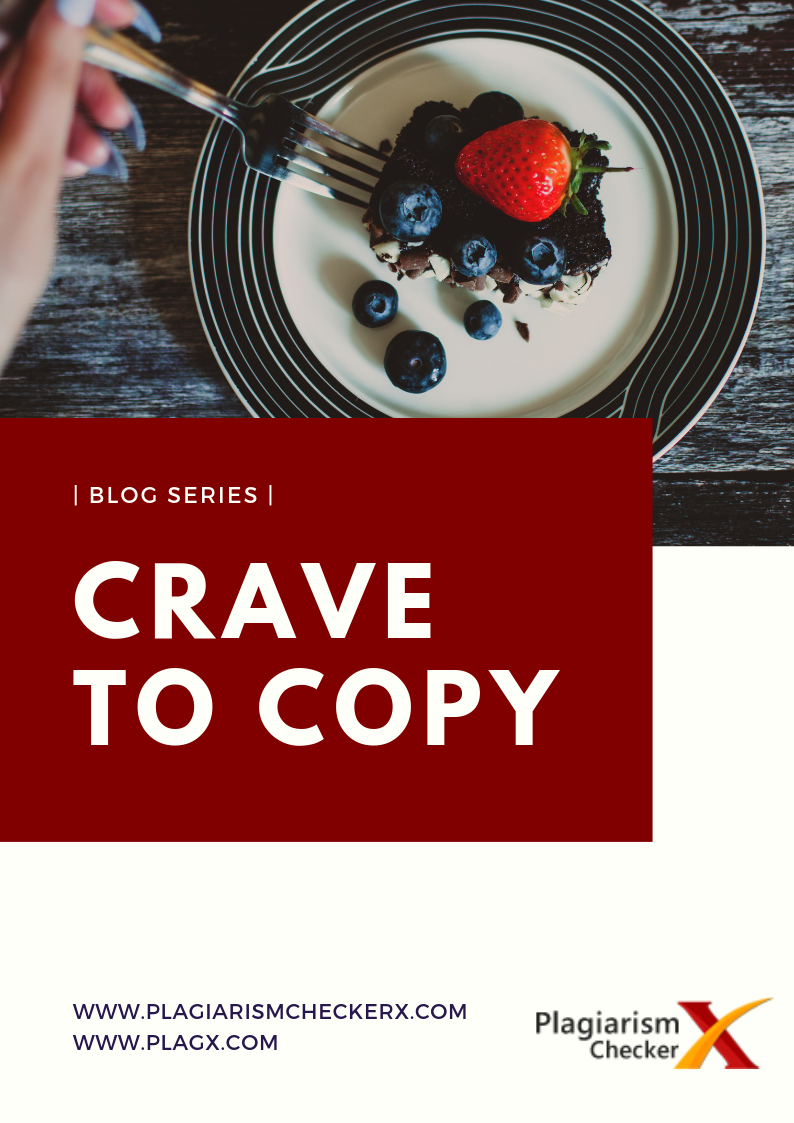 Why do people do it?
This Marianne Williamson quote sheds some light on the reason why people plagiarize.
People crave comfort, people crave connection, people crave community.

-Marianne Williamson
If someone's cohort is involved in a lot of plagiarism then they may find themselves doing the same. There are other reasons as well.
Getting Real About Plagiarism
The reality behind plagiarism is the unhealthy or panicked intention to get more output with least or no input efforts. The vague expectation to get a reward for doing nothing or doing very little is the key element that leads one to copy material from a source and present it as its own. The attempt of plagiarism not only disowns the original content creator from the due credit but also gives temporary and false appreciation to the thief which is going to be of no good in future. The reason being that if one cannot write the first chapter of the book, how can they expect to write the next or any other form of written expression at all.
Major Reasons of Plagiarism 
Following are some of the more common reasons why we copy others work :
Temptation to rapidly complete your work
Pressure of deadlines
We feel the dish on someone else's plate is better than our own!
Lack of commitment to our own work.
Lack of motivation
Less or no source of proper guidance
Simply Procrastination
While these are some of the many reasons why we actually copy others' work. It's better to admit that sooner or later, you will regret being disloyal to your job. So, leave the couch and start completing your project or assignment right away with honest originality!
To achieve that originality and authenticity you can check for plagiarism with a plagiarism detecter like Plagiarism Checker X to help you eliminate duplicate material from your documents, websites, reports and code. It is as easy as 1-2-3. To get your copy, click download Plagiarism Checker X and start your journey on avoiding plagiarism. 
Diving Deeper: Plagiarism Doesn't End
Many people do academic research plagiarism too in higher education and research environments which may come as a surprise because a higher level of academic honesty is expected at such levels. Nevertheless, it is an undeniable craving to get quicker results with less to zero efforts. If we talk about students and student life, wanting to plagiarize in order to give the best result they adopted  for grading from research may be because they fear to take risk on their own work.
Another reason is the lack of skill and training. Sometimes people have no skill and time for effective research that's why they plagiarize or maybe people want to be famous for writing well. That could result in plagiarism and stealing someone else's words as a quick way but it is an ethically wrong practice with severe penalties. So try to avoid plagiarism because it also gives you a feeling of pride in original work.
Did you think only students plagiarize? Nope! Not at all. Even big professionals in the area of writing, like SEO writing experts, also plagiarize very often. But why is that the case?
Ctrl+C Ctrl+V = A Constant Threat to Academic Honesty
For authentic writers and genuine content developers the issue of plagiarism and the craving of academic dishonesty that some people get has been a huge head ache from many years. They always have a fear of their work getting plagiarized by any third party. Most people don't even know that their work is being plagiarized by others intentionally or accidentally. However, that is where Plagiarism Checker X can help them but more on that later.
Let's consider a case of plagiarism to illustrate the concept more. A German defense minister recently had to step down from his power, because he was caught in plagiarism. He completed his university doctorate thesis with 80 plagiarized content in it.  Regardless of the high profile nature of a case, even a song lyricist can be included in plagiarism laws, if he or she uses others content to promote their own music, such as the recent case with Madonna, a celebrity singer who was allegedly involved in plagiarizing one of her songs.
In order to safe guard ones own intellectual property Plagiarism Checker X can help everyone check for plagiarism in their contest.
Why Do SEO Writing Content Specialists Plagiarize?
From singers and diplomats to writng professionals, everyone has been involved with plagiarism. You might have already predicted that it's all about easy money, enticement and unqualified or so called fake SEO Specialists. For these so-called "specialists" quantity will always be overriding the quality, because this method enables them to push up more customers' websites to the top 100 in the search results making least efforts to be successful.
Another reason for such acts in SEO writing is taking on and completing too many clients' orders than these SEO writing content specialists can uphold and properly deliver on with authenticity and originality. Just by copy-pasting unique articles and presenting some slight changes into them, SEO professionals manage to work in a fast-paced atmosphere triumphing good results.
Shortage of knowledge and capability as well as tough rivalry also leads to not so good SEO strategy choice, which will surely invite plagiarism. Not being aware of filtering methods run by search engines and the way it disturbs low-quality sites, SEO specialists shortly get flop performance. Google is a very good illustration which clearly shows how it can fight against plagiarists by penalizing and giving lower SEO rankings to duplicate sees or duplicate content in general. This means SEO plagiarism will not get you far.
Tips and Tricks to Control Plagiarism
We have all been there because all students or really anyone having to do anything writing may have come across the same roadblocks and hindrances you have. Ask yourself this:
Ever got stuck that plagiarism seems The Only Solution?
Ever felt the desire to copy paste because of deadline pressure?
Ever go so helpless that all efforts are on deadlock?
Ever felt 'this' assignment or work will never be completed?
Ever been in a rut or a writers block and now way seemed like an out but to plagiarize?
If the answer to above questions is a Yes. Then these ways to control plagiarism and the craving to plagiarize will be extremely useful.
There are times when we feel so lazy or over-occupied that plagiarism seems the only way out. But there are some effective tips that can actually help you control the craving to copy! These suggestions will definitely help you out from reaching the deadlock.
Acceptance!
It's good to accept that there's work and you have to do it. One cannot live a life without any work. It's something very obvious. So accept the need of the hour and mentally prepare yourself to welcome the coming work.
Scheduling.
Do not go for strictly bounded time constraints as they are not very realistic. But do maintain a time slot defined scheduling approach. Doing literature review from sharp 2pm to 4pm might not sound very applicable but planning to do a literature review every evening sounds more realistic. Do not mind shifting an hour back or so but keep the time slot dedicated to its work primarily.
Preparation.
Luck favors the prepared! It is a good way to keep a draft layout of the assignment, home work, research work or any other pending task (like in academic writing)  readily prepared. It reduces the pressure of layout formatting. And one can directly start from filling in the content into the sections of the previously made layout.
Do it in chunks! But do not stop.
It is very common that sometimes we just do not get ideas or lines to write. It's okay. Accept the fact and keep on trying a little. Even if you are not into writing a bulk of pages. Do try to keep on moving and write a few pages or paragraphs. It will surely help as though you're going slow, but at least you're going and will eventually get there!
Keep a notebook and pen with you.
Last but not the least, keeping something to write on actually helps you manage content for your work. Never underestimate the power of a pen. Always keep a little notebook & pen with you. You never know when you might get ideas or thoughts about your next chapter. Writing main points on a piece of paper makes it easier for you to keep them in record for later use. It also helps in providing key points for bulk amounts of data.
These tips and tricks will hopefully help the readers, whether students or SEO writing professionals, in controlling cravings to plagiarize.