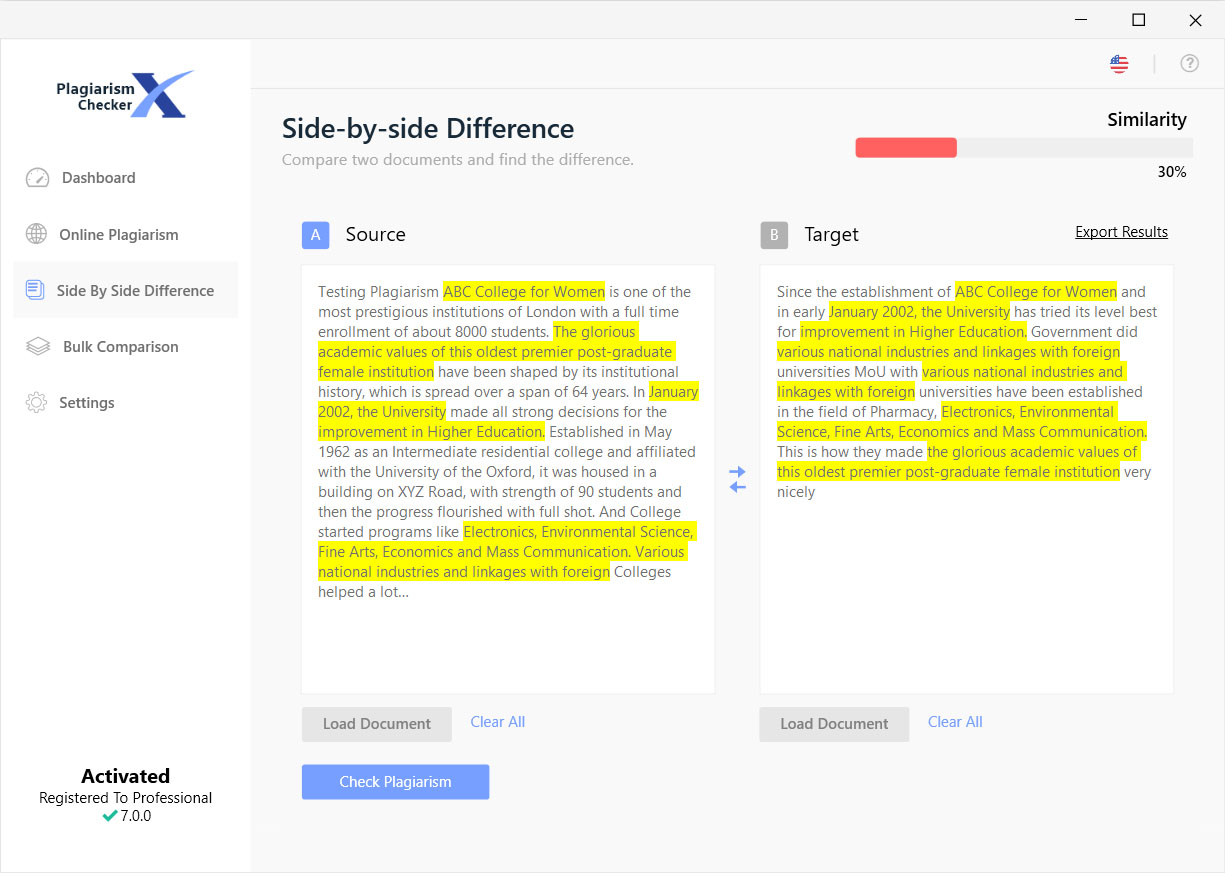 Side by Side Comparison
Comparison of Documents is Easy Now, You can find existence of your content over the web. It is for Teachers, Students, Publishers. One of the key distinctions of Plagiarism Checker X is that it not only works online but can also provide partial support offline. For example, if you are to detect two documents for duplication; the cross checking section allows you to see and compare two documents relative to each other. This helps in checking if they have certain plagiarism respective to each other. The best thing about this feature is that it can work offline as well.
Extract and View Keywords
Sometimes, it may happen that you may not want to check the entire document; instead, need to analyze a particular keyword. Our content scanner can help you perform this in better way. You can also extract some specific keyword phrases from the documents and result will show you their occurrences and density in percentage.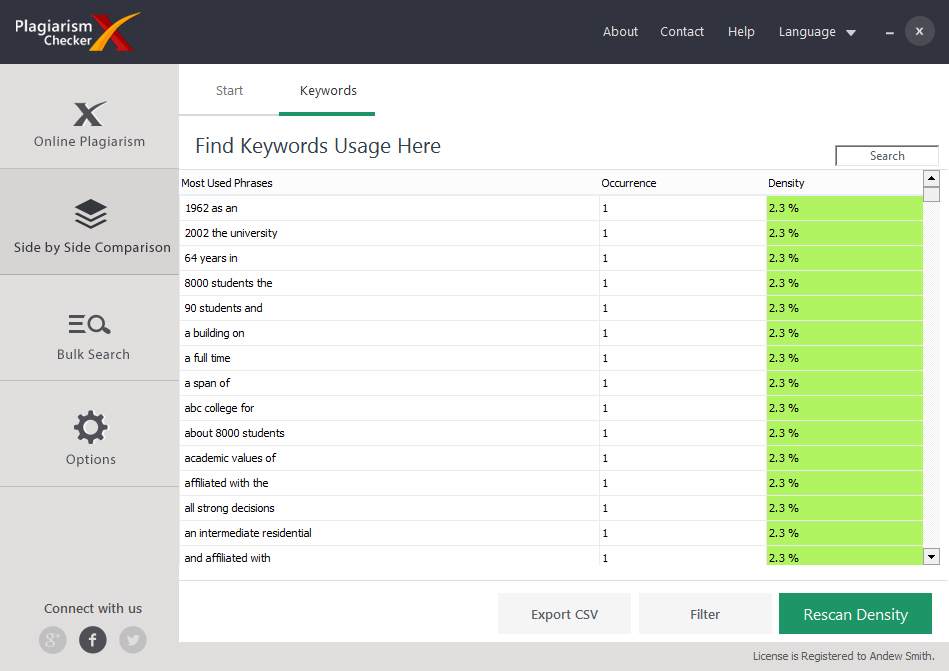 Plagiarism Detector Features
Easy User Interface
Plagiarism Checker X has a completely fresh design and joyful user interface that makes content scanning a lot easier. The new visual content detector removes all obstacles that internet user face while checking their content for duplication. The newly designed 'Duplicate Content Scanner' offers advance functionalities through separate add-on modules. This interface and attached utilities offer equal benefit to students, teachers, researchers, and search engine optimization professionals.

When you click on 'side-by-side comparison', two attached windows appear before you. Just paste contents or import content from a document and hit 'scan now'. In a matter of seconds, a detailed report is generated.
Flip Document
Flip document feature enables you to swap the content between two windows and check which one is original content and reach actual source of the content. If they are copied from the web, a list of source URLs appears below.
Shows Word Occurrences
Plagiarism Checker X not only tells us the copied content output in a simple percentage (%) format but also accurately displays how many words have been copied. The copied area is also highlighted by colors.
Density Percentage (Ratio)
It is very important to use 'relevant keywords' in the content to obtain higher ranks in search results. For SEO professionals and web content writers, this is very handy feature. This plagiarism detector helps you see the exact number of keywords used inside the content. This also tells 'common words table' like the, as etc. to help user improve his/her writing and obtain desired results.
Paragraph Counts
When you check plagiarism with the help of Plagiarism Checker X, it keeps you informed about the content statistics. It also shows you the number of characters, words, sentences, and paragraphs of the two text blocks that you enter for comparisons. Additionally, the plagiarism status report also shows as to how much words/sentences are copied at to what percent.
Compatible with Multiple File Formats and Language Characters
Those users who have to check contents in multiple formats, must be happy with this feature. You can import documents in .pdf .txt .doc, .docx, .rtf. & .html and many other types of 'textual files' can be imported for scanning. It is also compatible with all textual characters and languages. Just make sure that the file you are uploading is in 'textual format'. Finally, if you search 'plagiarism checker online' there are many solutions available.

However, they do not provide ample ease of use, productivity, accuracy, and data privacy that you enjoy here. If you want to experiment the product, download it and try for FREE.
Used by Leading Institutes
We value our customer experiences. The speed, accuracy, and easy user interface has made customers satisfied and loyal.
Why Plagiarism Checker X is the Best?
It offers the best user experience with instant results and unlimited words scanning. You can not only check your assignments, research papers, books but also your web pages. So Pay only once and enjoy unlimited benefits for the Lifetime.