Plagiarism In Past- Madonna Case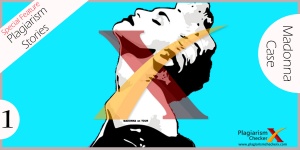 This is the first story we are featuring in Special Issue "Plagiarism Stories" by Plagiarism Checker X. This feature will let you see how plagiarism affected the famed badly and also it'll be a lesson to learn.
Our first story is about the famous Pop Star Madonna.
In 1998, when the super duper hit song "Frozen" was released by the  Pop Star Madonna, no body thought that after seven years of its release she will be accused of plagiary of the lyrics of this song and would have to testify the authenticity of it. Later on, in a Belgian court the crime was proved true and a least famed Belgian Lyricist Salvatore Acquaviva won the case of plagiary against Madonna for averring the lyrics of his song  "Ma Vie Fout L'camp," that was written five years earlier to the release of "Frozen".
The court then ordered Madonna to draw off all the discs of the song from the music markets of Belgium. The song "Frozen" was also banished from TV and radio stations for on-air broadcasting. This also caused a heavy damage to the celeb figure and market worth of the singer Madonna.
So, plagiarism can lead towards severe penalties whenever identified, sooner or later. Therefore avoidance is the best solution.
Stay tuned for more stories in Special Feature of Plagiarism Checker X.