Plagiarism Checker X New Version 8 Features!
We have some tremendous news for you. Version 8 of Plagiarism Checker X is now live and available for our users to enjoy. The updated releases are fitted with a load of new features, improvements, and performance enhancements. Future releases and updates will continue to make additions and even more improvements.
Our team has put in all their effort to offer you one of the most amplified performance eve and highest plagiarism detection ability of Plagiarism checker X. Let's not wait anymore and dive into all these amazing features and other updates of version 8.
Amplified Bulk Text Comparison Performance
Updates to our plagiarism detection technology and technique has resulted in enhanced scanning speeds and a reduced memory load on your device. That means you scan even more documents with a 50% less load on your device.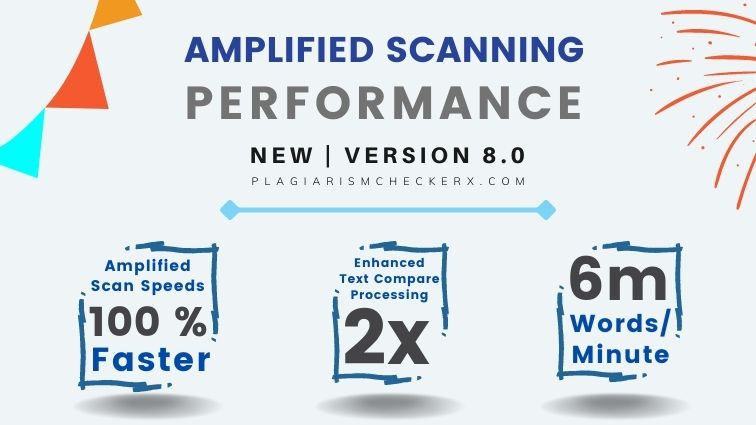 50% Memory Usage Reduced
This update to the plagiarism tool technology intensely improved plagiarism scanning speeds. Scan hundreds, even thousands of documents in Bulk Text Compare more efficiently.
Enhanced 2x Text Comparison
The amped up algorithm provides twice the speed in Bulk Comparison; Our Rapid Action Algorithm is even faster than ever now!
A Better Design
Our attention doesn't stop at performance improvements. Design elements are crucial to anything. The software User Interface and its aesthetic factor is just as important as the technical performance.
Online Plagiarism Reports in this new version are equipped with more pleasingly aligned report sources and their URLs.
Cross Comparison Reports received an ease-of-use upgrade in their design. You can easily access the page from the hyperlinked header cell when scanning URLS. Additionally, when hovering over their domain title cell in the CSV report.
Dashboard Statistics will be getting a 'reset' button to its design. It won't just add to its design but give you the option to clear all data in your dashboard for a totally fresh look.
Plagiarism Checking More Accessible and Compatible
We work on making our plagiarism detector easier to use and similar to detect plagiarism from it in addition to plagiarism detection abilities. Version 8 has improved accessibility and compatibility of Plagiarism Checker X:
Scan Folders through "Add Folder"
With Cross-Comparison, you can now add and scan all documents in entire folders; even in all the sub-folders within it! No need to add them one by one.
CrossCheck Your Web Pages
For detecting similarity in between your web pages, a new way has been introduced: Import Bulk URLs through a CSV File and get your pages cross-checked in seconds.
Customized Report Branding
Support your business, organization or institute by adding a custom unique logo right on the final plagiarism report generated by Plagiarism Checker X. All you have to do is go on the Branding tab on the Settings menu and then add the logo from your device.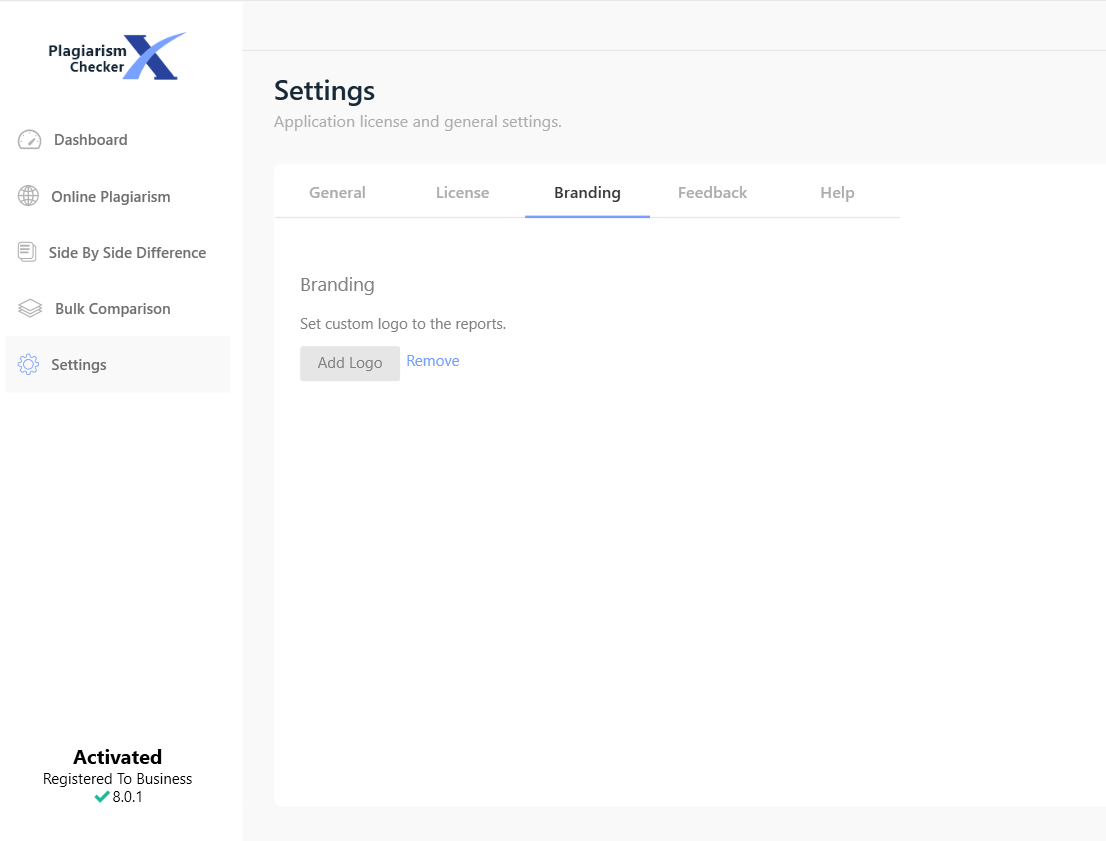 All that is left to do is to check for plagiarism and view your custom logo on the plagiarism report. Reports with your logo further the brand and look a lot more professional and unique.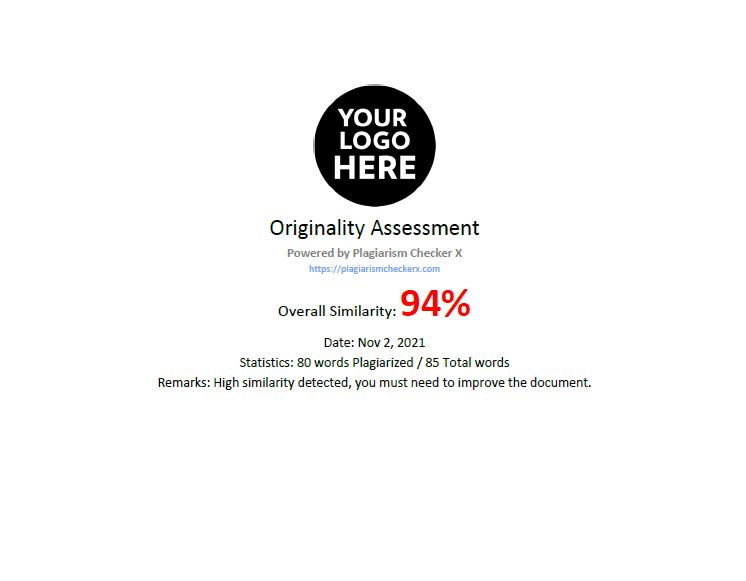 Drag and Drop
Adding any file to check for plagiarism has never been easier. The all new version 8 is fitted with the drag and drop function so you can just drag any file and drop to the text box for plagiarism scanning.
Spreadsheet Support
Importing and scanning of any content in a spreadsheet excel file is now supported for plagiarism checking in the new release. So, no matter what file you want to scan, go ahead with ease of mind of detecting text similarity in your work.
Word/PDF Improved Compatibility + OnlyOffice
Existing format compatibility with Word and PDF files was further amped up in this new version with addition of OnlyOffice support to. Whichever program you use to do work and write, it can easily and thoroughly be scanned with the new Plagiarism Checker X.
Preserved Content Formatting
Speaking of ease of use and readability, your content formatting is preserved from when you enter or load the text to when the report is generated.
The text is not jumbled together but paragraph and heading spaces retain their position and the report becomes a delight to read.
Other Fixes and Improvements
Improvements and a few bug fixes of existing features is a part of any upgrade, including version 8. A highlight of the performance, ease-of-use, user interface, and user experience improvements and fixes includes:
Improved link Opening for Both HTTP and HTTPSHybrid method of using both domain protocols (HTTP and HTTPS).
Seamless and Improved Link Opening in BrowserHybrid link opening for checking linked sources or scanned URLs. meaning they will either open in your default browser or in the browser already open.
Text Compare Score WML Inconsistency FixedOptimization and fixing of a score inconsistency between Side by Side Comparison and Bulk Comparison.
Dashboard Crashing IssueFixing of dashboard crash issues stemming from time zone differences and changes.
Stay in Touch
There are many great features to use in Plagiarism Checker X Version 8. We are also constantly working on adding more and further improving our performance. So, stay connected for all updates. www.plagiarismcheckerx.com | www.plagx.com.