Plagiarism Checker X New Features!
Our Team is very happy to announce the launch of new enhanced version 7.0 of PCX as well as its updated further releases. After consistent and collective efforts, the most enhanced version is ready to be shared with the world. The wait is finally over! Let's have a sneak peak into the amazing updates in the version 7.0 plus new releases.
Plagiarism Checker X is
reinvented
!
7.0 brings a lot of changes in-side-out of the software.
As Yves Klein, a french artist once said "Blue has no dimensions, it is beyond dimensions". Same goes for the fresh blue theme of PCX. It is definitely Mind-Blueing !
Accelerated
x2
Performance!
The performance perk of the new version is of twice performance.
When you use the tool, a

rapid-action algorithm

accelerates the performance speed.
Giving you better experience with

doubled performance.
Enjoy the doubled speed and get faster results in just a few clicks.
Accuracy Increased by

26%
The potential of giving accurate results is multiplied with 26x times better outcomes. This means more content is analyzed in granular details. This allows you to furnish your content for more high-quality content-creation and the better the quality, the higher demand it satisfies. To get you text spotted as more refined quality work, get the latest version now.
It's Faster & Smarter Wit

h Artificial Intelligence, Wow!

We know this is the era of Artificial Intelligence. PCX is also embedded with AI-Enabled Technology of Deep-Learning. It allows the back-end processors to check even tiniest bits of data into all the online public content. Hence giving you well-tailored experience for best results.

Have a look at the beautiful and intuitive interface of PCX 7.0 for an enhanced User Experience.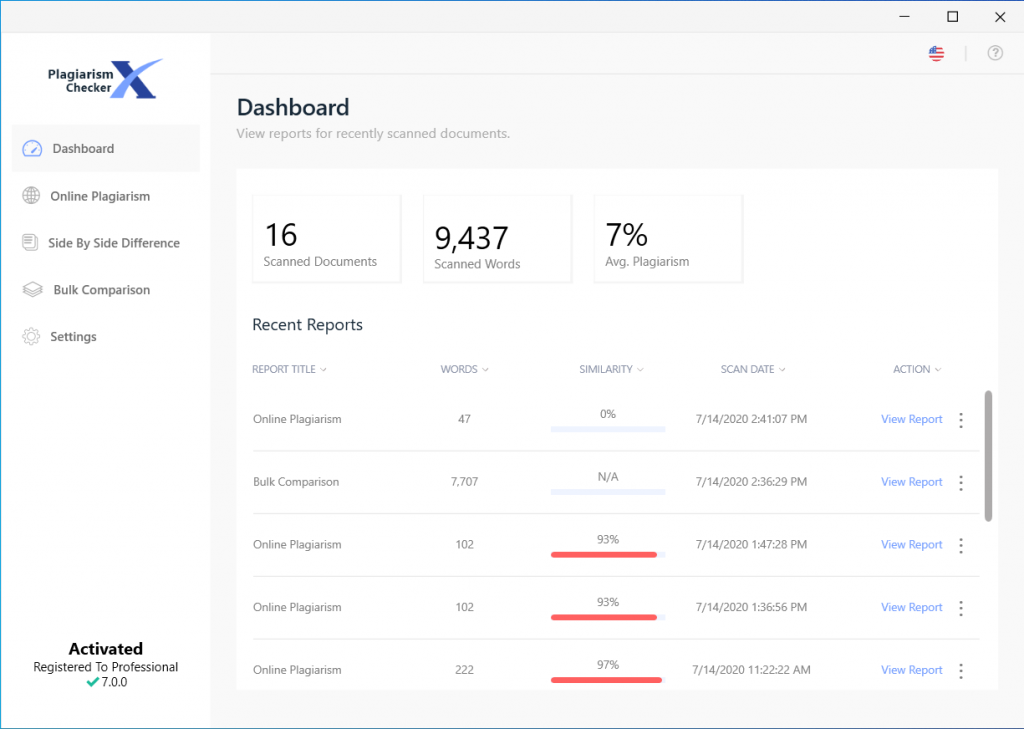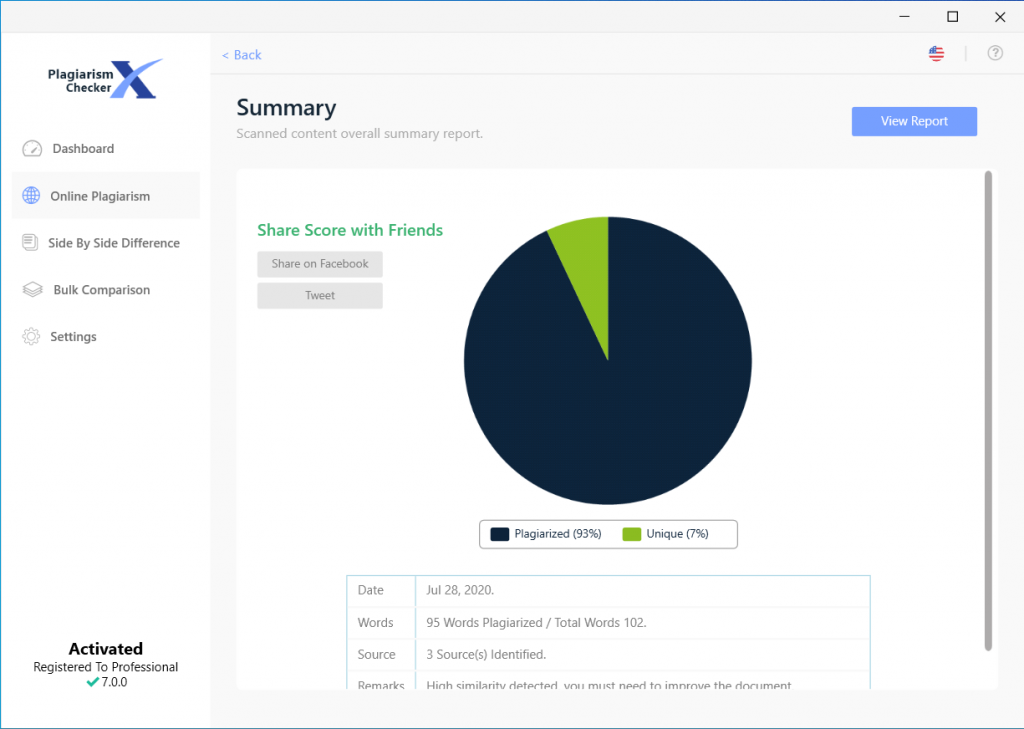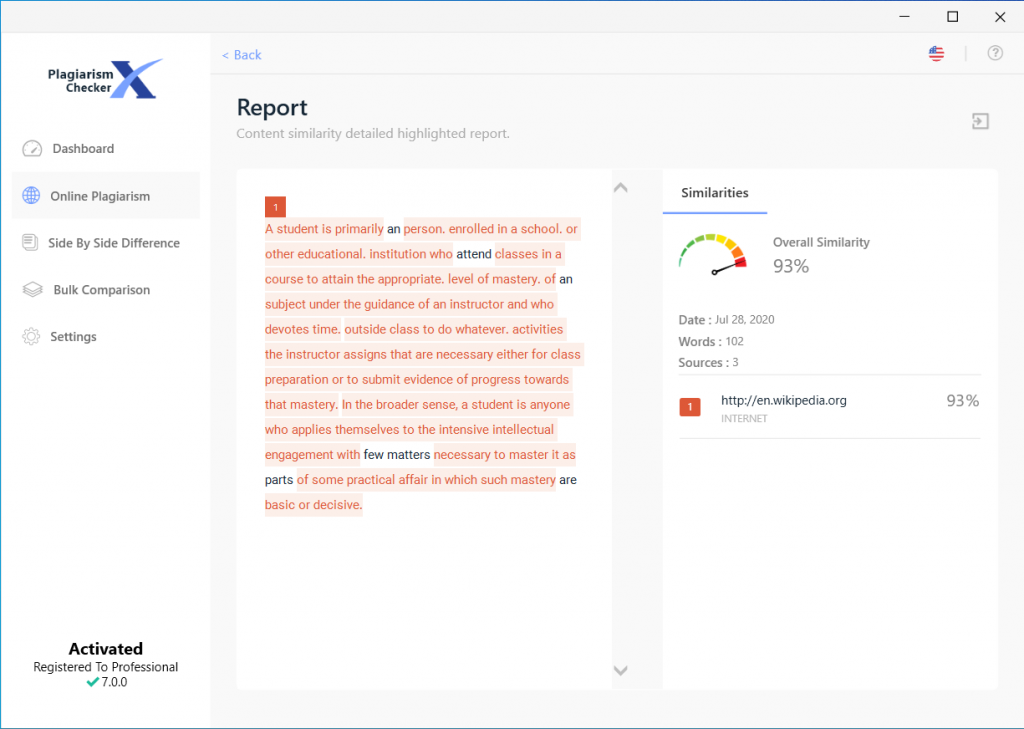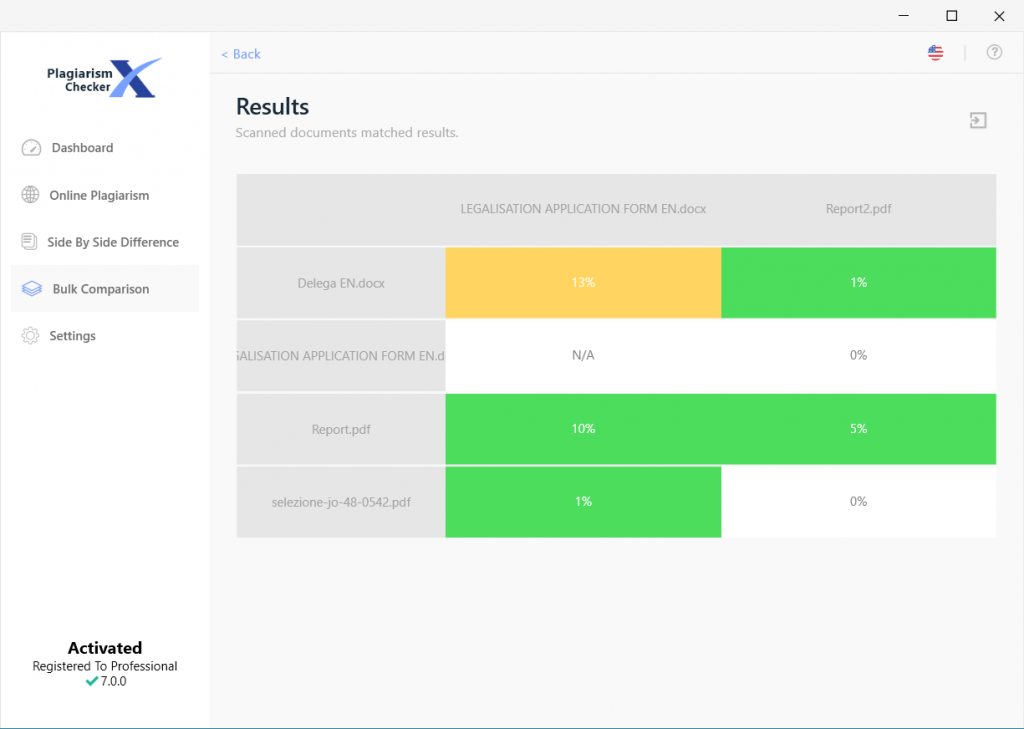 Excited, right! Even we are more thrilled to share the Reinvented Version with you all.
Features Galore
Outside of the new aesthetic and amped up back-end performance factors, the new and improved Plagiarism Checker X in the version 7 release and onward has a buffet of added features for users to enjoy and take advantage of. To name a few, added language support including right to left scripts like Arabic, better exported reports layout, intelligent website plagiarism detection, and some special perks for business license members. Let's a dive a little deeper and see these new features in more detail.
20 + Languages Plagiarism Scanner Compatibility
We don't believe in languages being a barrier in academic honesty. Now more than ever, that is true when you'll use Plagiarism Checker X because the new version can detect, scan and read major 20+ languages such as Hindi, Russian, Mandarin, Japanese and Right-to-Left languages as well such as Arabic, Persian, Urdu, Hebrew and more.
Figure: Online Plagiarism > Arabic Report
Dashboard Analytics

Sometimes you want to get an idea of plagiarism performance and academic writing improvement over time or maybe you just want to figure out when the last scan was for the essay due tomorrow. The dashboard will let you do that easily because past scans and their reports are categorized with a general summary. It has information like the amount of words scanned, title, and download actions. Also, there is timing information like if the scan was 5 hours ago or 30 minutes ago, related similarity scores and more. See for yourself in the software screenshot.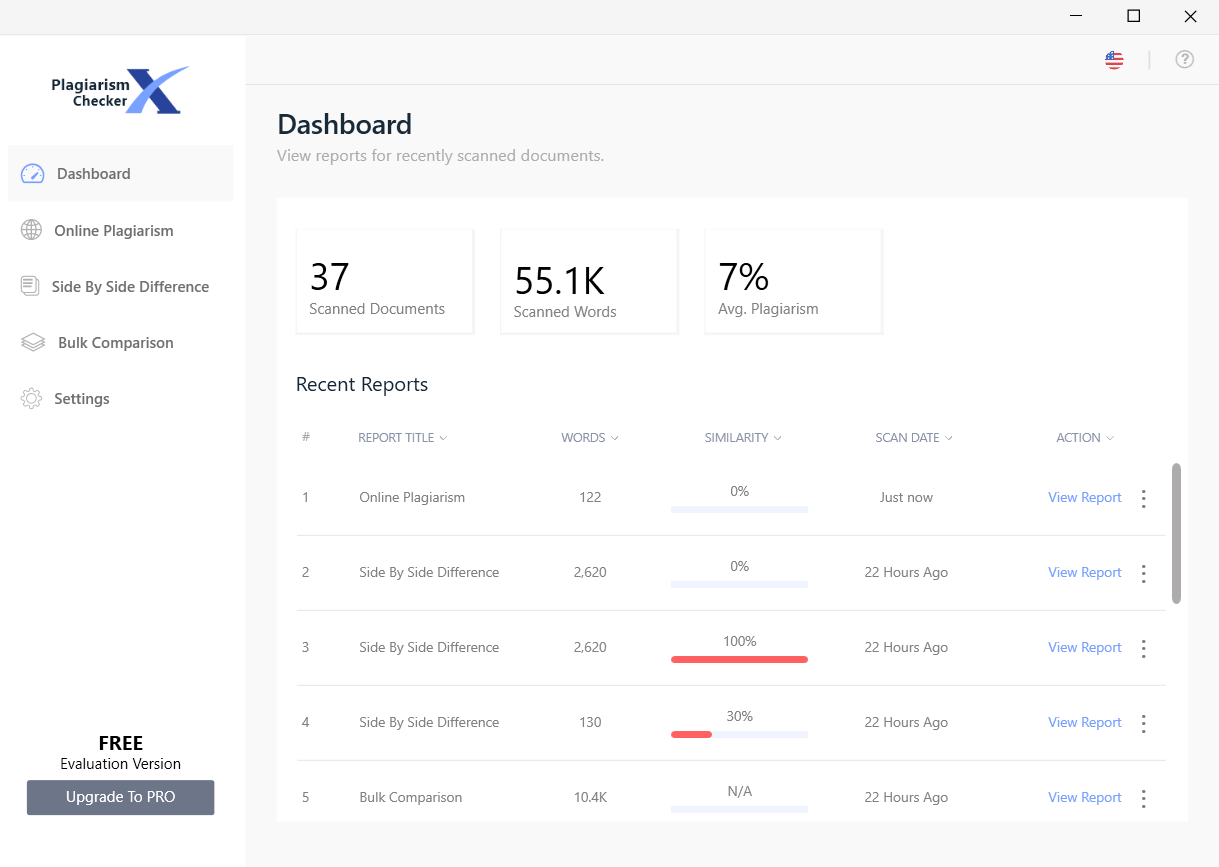 Figure: Dashboard Plagiarism Checker X
Customizable Plagiarism Word Match Lengths

You can simply switch between the word match limit for plagiarism detection in your documents instead of manually typing in the numbers. This way you'll set the strictness level of plagiarism detection. Ease of use needs to be the most important aspect and with Plagiarism Checker X, that is what you get. Just click the arrows as seen in the screenshot to increase or decrease the limit.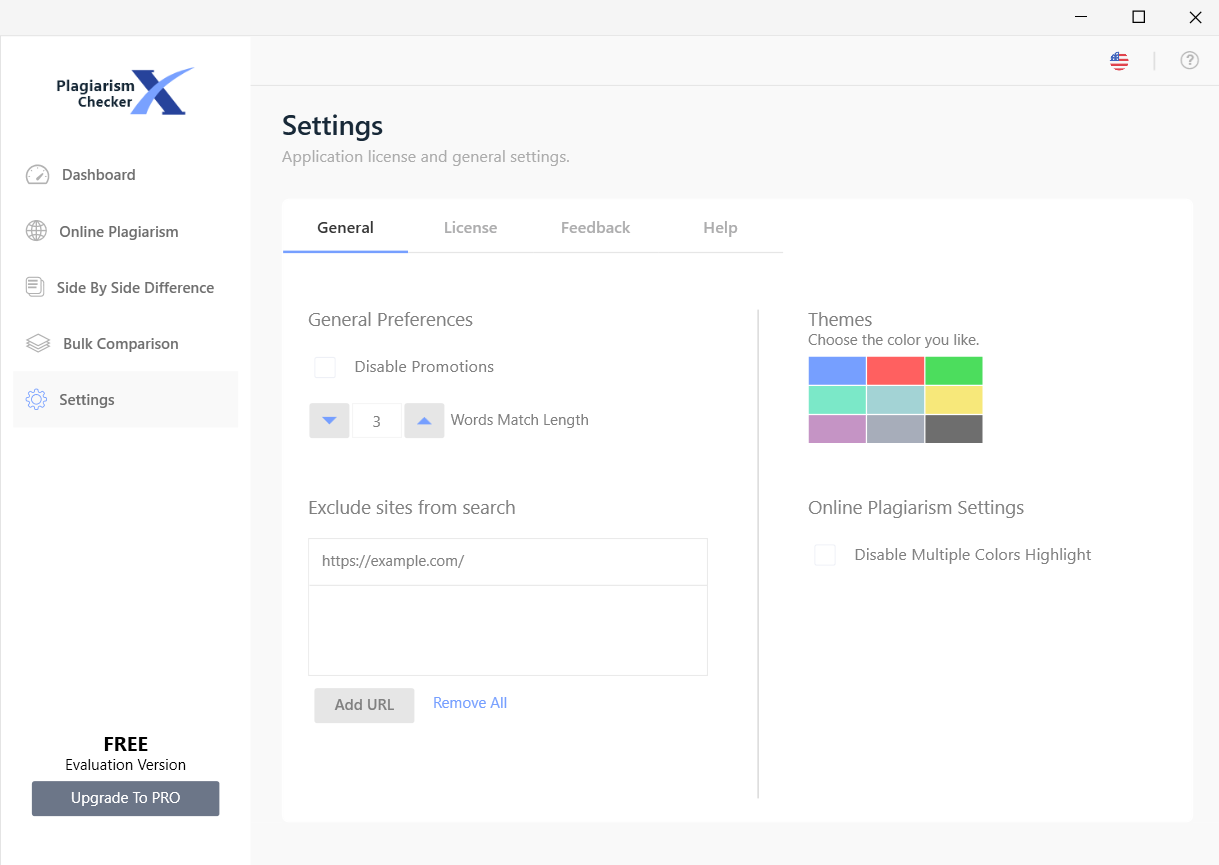 Figure: Settings Plagiarism Checker X
Pop-up Full Source URLs

Did someone say, ease of use? Now when you hover the cursor over the detected sources to the right of the plagiarism report,the full and exact URL will pop-up showing where exactly the similarity was detected form.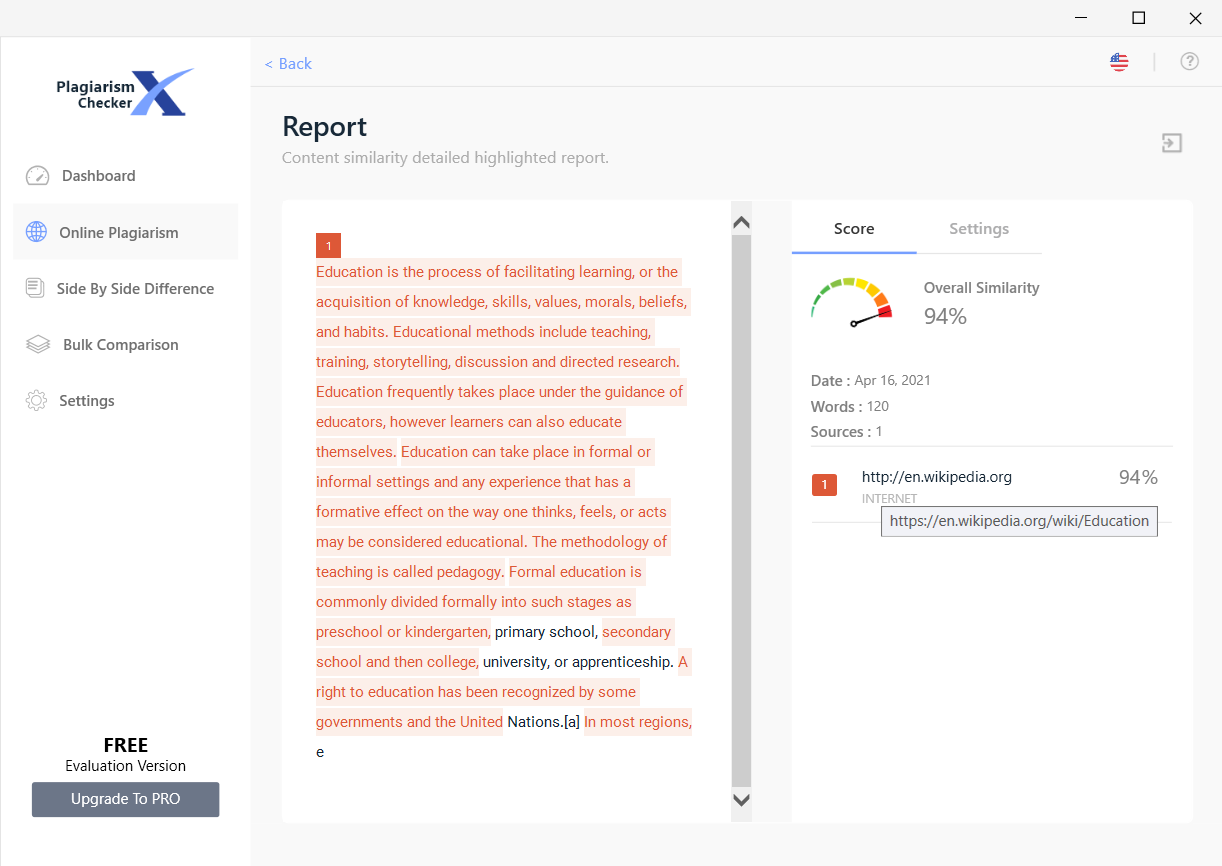 Figure: Online Plagiarism > Report
Detailed Side by Side view for Bulk Comparison Report

Look, sometimes you need to get a closer look at you documents for a better and in depth comparison of the similarity between them. This feature let's you do that perfectly. Simply hover your cursor where the two documents on the report match up and click for text compare and to view the detailed similarity with highlighted text.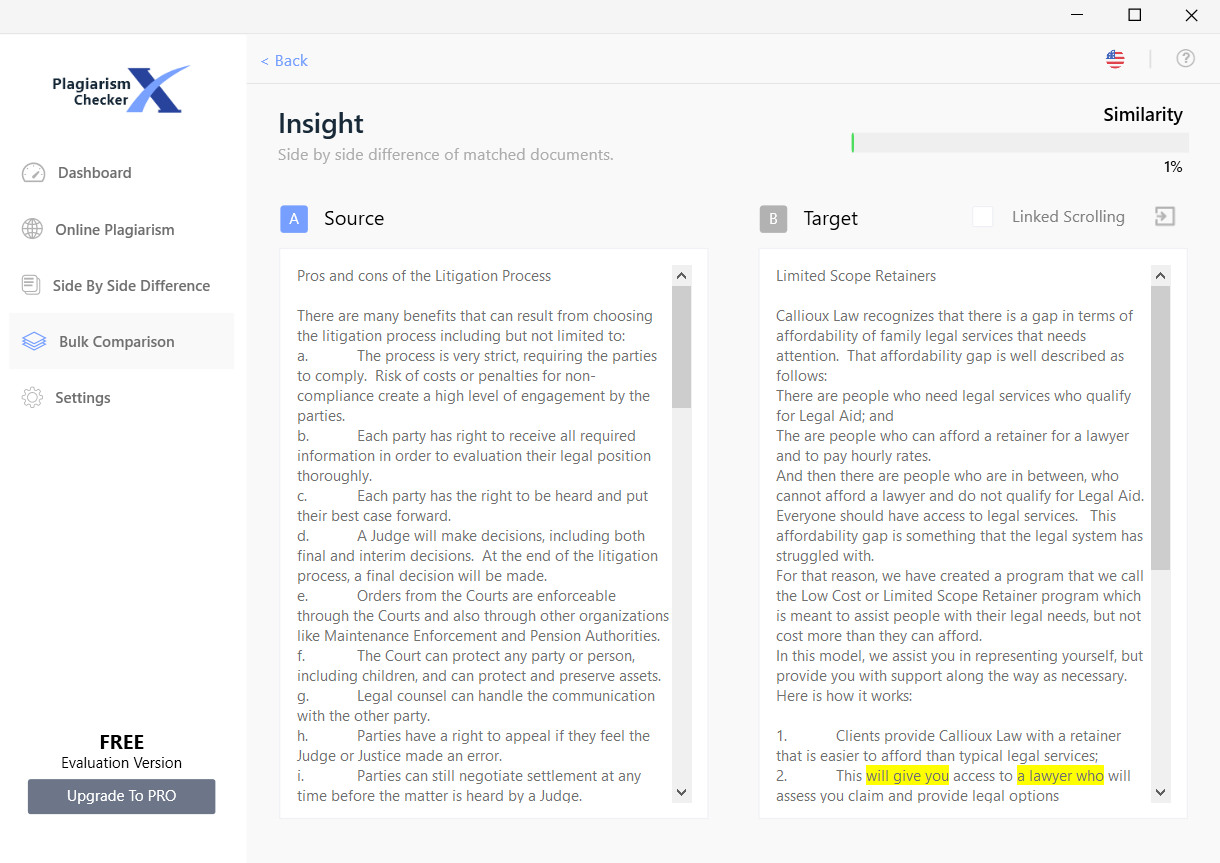 Figure: Bulk Comparison > Results > Detailed Side by Side view
Intelligent Website Plagiarism Detection 
If you are scanning a web page in the Online Plagiarism feature, there is now an option to exclude the entered page with the 'Internal' selection or the 'External' option will exclude the entire domain (.com). This is super helpful when trying to avoid false matches for self-plagiarism and it will help you avoid the hassle of manually your own webpages for more accurate website plagiarism detection.
Example
Imagine you want to scan your blog for originality. Having your own URLs from the domain come up in the website plagiarism detection won't be a pleasant sight to see. Also, that wouldn't be an accurate match. We are about only accurate and true plagiarism matches and by selecting the 'internal' or 'external' option before clicking 'check plagiarism' achieves that goal. Now when you search your blog site for plagiarism and originality, only the most accurate and true plagiarism matches will be detected int he originality report.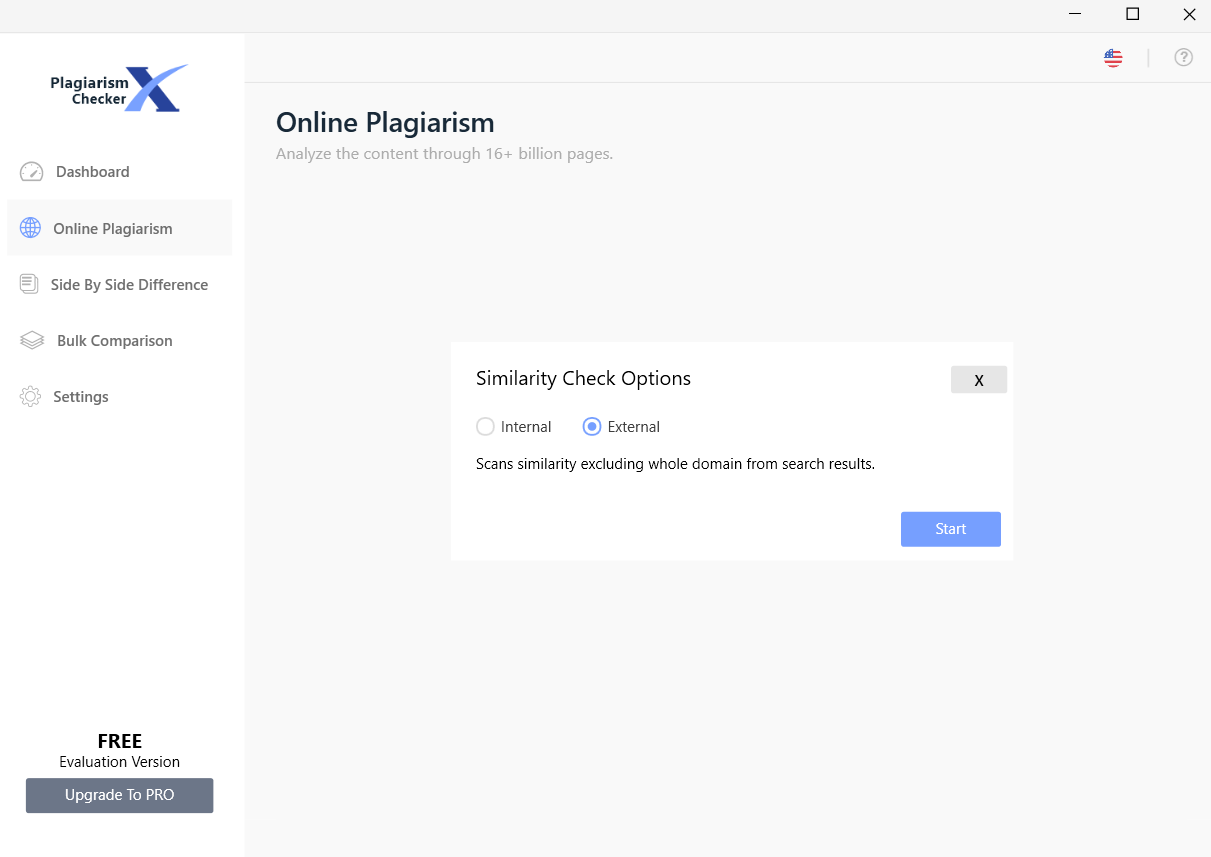 Figure: Online Plagiarism > URL 
Text compare is best when you see it side by side for that perfect comparison when writing and editing papers for blogs or other publication purposes as well as for academic writing and college submissions. The new Plagiarism Checker X achieves that because when you download the report for Side by Side comparison it is shown with the same layout that is seen when checking similarity between two documents in the software.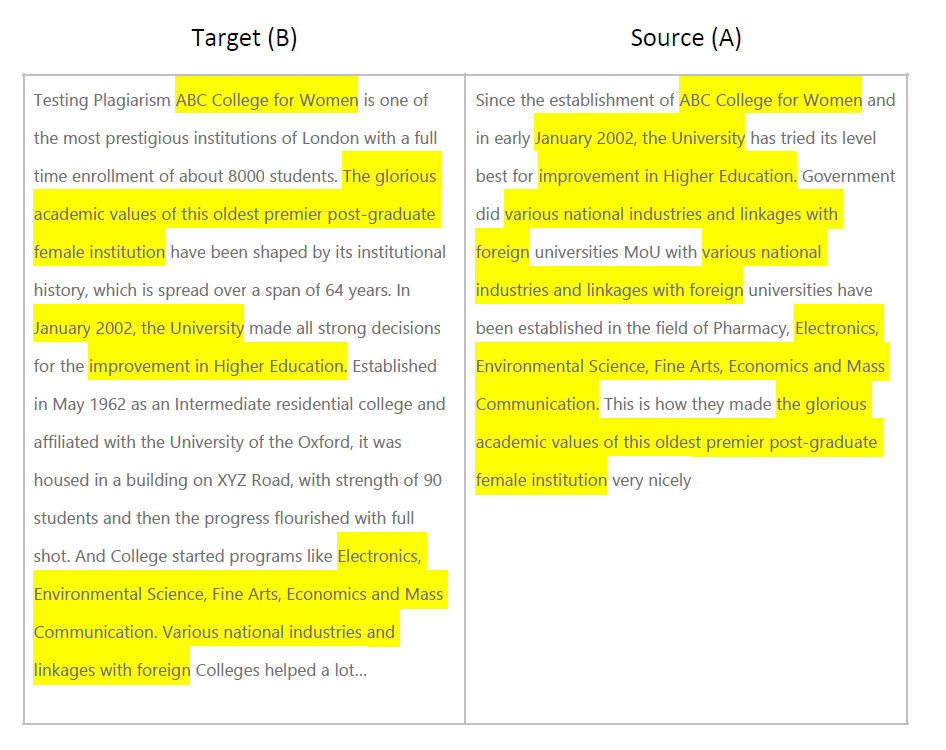 Figure: Side by Side Difference > Exported Report
Better Readability with Synchronous Scrolling 
The readability factor is increased with updates even in the software view of the text compare feature because you can now scroll in synchronicity between the target and source document. If you scroll down to the conclusion of your paper int he text box as the source document, the target document will scroll automatically to the end of its respective section as well. Now review and text compare your papers without any hassle or hindrance. 
More User-Friendly Bulk Comparison Exported Reports
The downloadable Bulk Comparison spreadsheet plagiarism report has been improved with frozen title headers. The document title column and row always stay visible no matter where you scroll in the spreadsheet when there is a whole bunch of documents that would normally exceed the single page view. There is even a brief summary of that scan in a separate tab of that spreadsheet that shows how many words, and documents were scanned as well as other information. 
Frozen Headers Example
If you are a publisher wanting to check the similarity between in-house submissions or between different editions submitted by an author, their bulk comparison similarity report will have frozen headers. That means if there are a lot of documents that are scanned, reading their similarity Bulk Comparison reports is a lot easier. If you scroll down on the spreadsheet to the last document on the list, the title for the two documents for which the similarity is shown will still be visible in the title row and column. Notice in the screenshot that the cell row 2 and 3 are missing. That is because the sheet is scrolled down but you can still see the document titles due to the frozen row and column headers.
Figure: Bulk Comparison > Results >Exported Spreadsheet
Business License Special Perks
The Business members of Plagiarism Checkers get even more than the 5 lifetime user licenses. The new version has added special features for the Business lifetime license holders.
Group Format View in Bulk Comparison Plagiarism Reports
The addition of viewing the bulk comparison reports in group format makes analyzing numerous documents being scanned for plagiarism more thorough and user-friendly. The overall similarity of one document can be seen against all the other documents in the group. If you check for plagiarism in numerous papers at once against each other, analyzing their overall similarity becomes important in addition to the similarity of one document against another in that group. 
Group View Example
The group view format in the plagiarism reports can add a great feature in the academic honesty and academic writing arsenal of publishers, writers and bloggers. If you are a blogger and want to make sure that you new blogs are different and unique than the previous ones last month then group view is your way to go. Group view will show the overall similarity of the latest blog piece in comparison with all the other ones of the past month or of past two months depending on how may you documents you load.
Added Security with Protected Plagiarism Reports
Security should always be the topmost priority and with this new version it definitely is. The reason is that there is a password protection feature that can be used to either completely restrict access or limit editing rights to the plagiarism report document. Only those with passwords can have viewing access or editing rights to that document.
Password Protection Example
Imagine your firm is about to release its quarterly research report and it has been processed through a plagiarism detector to safeguard the company against any intellectual property issues. Now, that report is emailed to different members on the board or those responsible for its publication. You wouldn't want that report being viewed by someone who shouldn't have their noses in it just yet, right? This is where the password protection option for plagiarism reports in the business license version comes in extremely handy. Secure it with the password so it can only be viewed by those who should see it by giving them that password code access.
The crux of the matter is that an accurate plagiarism tool is necessary to fix plagiarism. If you don't know where plagiarism is in your paper then how would it be possible to avoid plagiarism? Get your copy today from the official website, detect plagiarism by making use of all these new and improved features, and stay tuned for more updates from Plagiarism Checker X!