Melania Mimics Michelle – The Plagiarism Story
The current sensation of American History, newly elected president of America is creating hype on every kind of media. Even his wife, Melania Trump is in news for her plagiary acts at Republican National Convention night.
Melania Trump, wife of Donald Trump and the current First Lady of America, is under allegation of copying the speech of Michelle Obama (Wife of Former President of America, Barak Obama). The news was broadcasted on CNN.
Though it might sound a bit exaggerated at first, but if we compare the speech content, the plagiarism is clearly visible. Have a look below.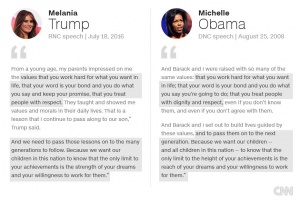 A major part of the speech was copied from Michelle Obama's speech back in year 2008. Not just the words, but the complete phrases of the speech seems to be Ctrl+C & Ctrl+V from Michelle's words earlier. The Trump Team do not plan to take any actions over it. But Mrs. Trump makes her way into the list of Top International Plagiarism Stories.
Image & News Sources: CNN Official.
For complete news click Here.